INNOVATIVE, SCALABLE, RELIABLE CLOUD CONTACT CENTER
Optimize customer engagements from anywhere
Seamless Call Center Communications
Software as a Service (SaaS) or cloud-based call center solutions are a fundamental shift from premises-based systems—for the better. The Castel Call Center as a Service subscription-based business model relies on innovative technology to deliver seamless call center communications so agents can quickly and efficiently focus on their customer interactions.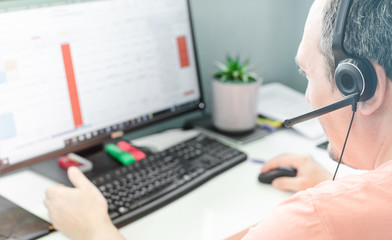 Castel Makes it Easy
With our cloud-based solution, your business has the advantage of a state-of-the art call center that is scalable and reliable without the installation, management, maintenance and capital hardware or software expenditures of an on-premises platform. You get a system that:
Accommodates multiple locations
Provides single points of system management
Fits your business continuity strategies
Instant Ignition
Castel consolidates all your inbound and outbound workflow processes and Castel applications into a single portal—accessed with a single link so you can:    
Monitor quality

Unify conversations

Measure productivity

Drive performance

Provide real-time compliance

Score calls
Why Choose Castel?
MOST AFFORDABLE
Leading-edge functionality of larger, more expensive cloud-based call centers right-sized and right-priced for small businesses to enterprises.
PERSONALIZED CUSTOMER SERVICE
Our suite of custom success solutions is designed specifically for your call center revenue, performance, and customer experience goals.
QUALITY
Our advanced speech analytics technology offers quality assurance and immediate intervention capabilities that proactively correct trends that might negatively impact the customer experience.
EASY-TO-USE
Our cloud-based platform is easy to use with an intuitive graphical interface that simplifies the day-to-day administrative tasks with minimal training. You get the power of an on-premise center with the convenience of single-link access.
IN-DEPTH SOLUTION
Our cloud-based call center solutions can improve agent productivity, provide real-time compliance, and increase revenues, and scale instantly to meet your business demands.
FEATURE-RICH APPLICATIONS
Sophisticated and powerful applications like speech recognition, predictive dialing, manual dialing, and digital voice recording deliver exceptional in real-time communications solutions.
Cloud-Based Features
Make Customer Service Your Competitive Advantage
Make your call center a customer-centric culture by giving your agents the tools they need to create an exceptional customer experience. Your agents can rely on our technology in the background while they focus on understanding their customer's expectations with features like:
Automatic alerts
Scripting and call preemption
Intelligent routing
Control the Flow of Confidential Customer Data
When you move your call center to the cloud you give up cumbersome hardware and complicated, inefficient software, but you can still expect ironclad security just as you would on-premise. Castel's cloud-based infrastructure and systems are fully safeguarded with:
Access security
Advanced encryption
Threat detection
Multi-factor authentication
System access logging
Firewalls to protect your customers' data
Get Enterprise-Level Infrastructure
Castel offers a redundant, secure, and compliant state-of-the-art facility to keep your contact center data and systems safe and up and running. We offer:
Tier IV colocation
Onsite, certified physical security 24/7/365
High-resolution interior and exterior CCTV monitoring
24/7/365 secure client access
AIPCA SOC 2 Type 2 compliance Standard AT 101 certification
Level 1 PCI-DSS certification
Prevent Downtime From Disasters
Delivering contact center solutions that ensure high availability and service for call processing, anytime and all the time, even during disasters. Castel's disaster recovery features include:
A fully redundant N+1 infrastructure
Priority power restoration
99.995% uptime per annum
96-hour power outage protection
Comprehensive SLA 24/7 uptime
Access Advanced Capabilities
With Castel's advanced product suite of contact center solutions, you can easily unify our SaaS communication services to optimize customer engagements and operations and revenue performance.
Castel Connects offers a full featured blended solution with automated dialer, skill-based routing and priority queuing.
Castel Live Detect with speech analytics analyzes live calls with high accuracy alters, reminders, scripting, and call scoring.
Castel Detect QA/QM automates your contact center's Quality Assurance/Quality Management process to yield significant cost savings.
Integrate PBX as a Service
Hosted from our N+1 infrastructure, Castel's PBXaaS is part of our cloud call center suite solutions, providing small, medium, or enterprise businesses with a fully featured off-premise phone system without the need for costly hardware or installation. As part of the PBX infrastructure, you get phones, headsets, and local numbers. When you integrate PBXaaS with Castel's Call Center as a Service, you get even more advanced capabilities with our state-of-the-art call center technology, including:
Automated dialing
Advanced call routing
Priority queuing
Speech Analytics
Learn How The Castel Cloud Can Enhance Your Contact Center Performance From Anywhere
Castel Communications helps contact centers achieve operations milestones through proactive compliance and best practices built on actionable data. We support our contact center partners with a suite of custom success solutions providing real-time analytics, post-call analytics, and customer engagement capabilities.