OPERATIONS INNOVATION // REAL-TIME COMPLIANCE // SUPERIOR REVENUE PERFORMANCE
Comply with TCPA regulations and state and local calling restrictions while improving agent productivity.
Analyze 100% of your calls with high accuracy and call scoring. Review a month's worth of calls in a single business day.
25 YEARS OF CONTACT CENTER INNOVATION
We drive real-time agent compliance for contact centers that directly translates into revenue performance.
A partnership with our Excellence Assurance Team provides:
CONTACT CENTER SOLUTIONS
Customer engagement tools that enhance contact center compliance, revenue performance, customer experiences, and operations.
SPEECH ANALYTICS
Quality assurance and immediate intervention capabilities that allow compliance and best practice errors to be corrected during an active call.
EXCELLENCE ASSURANCE
A partnership between you and our team that proactively corrects performance trends negatively impacting customer experiences and operations.
INTELLIGENT RISK REDUCTION
Real-time compliance assurance and best practice development tools that dramatically mitigate the emergence of lawsuits and protect your contact center from needless threats.
ENHANCED REVENUE PERFORMANCE
A collaboration between you and Castel that tracks revenue collected alongside compliance to drive agent behaviors that enhance customer experiences and operations performance.
IRONCLAD DATA SECURITY
Your choice between on-premise or cloud-based solutions allowing your organization to securely control the flow of confidential customer data. Operate with full security confidence.
LOW BUDGET IMPACT
Affordable implementation and maintenance built on some of the most competitive terms in the contact center industry so you can do significantly more with limited resources.
CASTEL CONTACT CENTER SOLUTIONS
Leverage our comprehensive suite of contact center solutions to achieve success through proactive compliance and best practices built on actionable data:
Learn The Top Five Ways To Increase Contact Center Performance By Ensuring Real-Time Compliance. Get Our FREE Guide.
Enjoy the latest updates and contact center industry analysis from Castel:
CONTACT US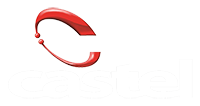 ABOUT US
Leveraging a proven 25-year track record of contact center innovation, Castel Communications helps contact centers achieve operations milestones through proactive compliance and best practices built on actionable data. We support our contact center partners with a suite of custom success solutions providing real-time analytics, post-call analytics, and customer engagement capabilities.
Our solutions are built on decades of lessons learned in the areas of contact center technology, compliance, active trend detection, intelligent risk reduction, enhanced operations performance, ironclad data security, and low budget impact.
We deploy an Excellence Assurance Team that collaborates with our contact center partners to actively spot and correct agent interaction trends negatively impacting customer experiences and operations. The outcome of our approach is real-time compliance and best practices that directly translate into contact center revenue performance.
4285 Genesee Street, Buffalo, NY 14225, USA
1-800-657-8215
© 2018 – Castel Communications